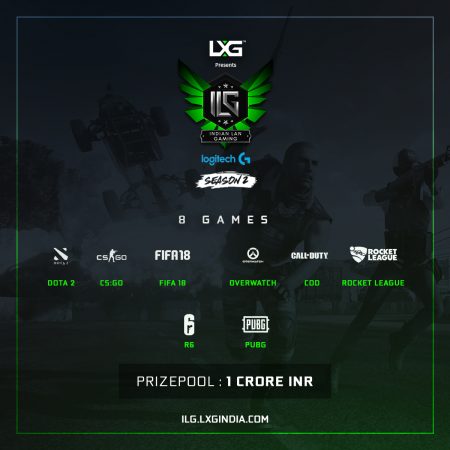 Indian Lan Gaming 2018
Indian Lan gaming is back folks. This time it is getting bigger. let the games begin!
League OF Extraordinary gamers was founded in August 2013 by a group of success driven Individuals to increase the influence of gaming in our massively growing Indian gaming Community. LXG concluded their maiden season 1 last year successfully a tournament known as Indian LAN Gaming - ILG Cup. Indian Lan gaming has entered its second season, the season is set to kick off in April 2018. This time the season has a total prize pool of RS. 1 Crore (USD$153,322.35*). The prize pool will be distributed among 8 popular game titles. The main 3 gaming titles are Dota2, Csgo, and Fifa18. The other games are Pubg, Rocket League, Call of duty 4 MW, Call of Duty WW2, Rainbox six and Overwatch.
The second season of the Indian LAN Gaming - ILG CUp will be featuring a total of 170+ Lan gaming events starting on 7th April, 2018. This time it will be conducted on 16 cities all over the country. The teams which qualify through the rounds will be participating in the ILG Season 2 Grand finals which will be held in October 2018. These events will also be hosting 90 Mini Tournaments with merchandise to be won by gamers and viewers who will attend these events.They want players to experience the exhilaration and incomparable feeling of a Lan tournament. This is a platform for both amateur and professional gamers to showcase their talents.
Key features & highlights of ILG Season 2, 2018:
● India's Largest organized esports LAN tournament
● 2018 prize pool increased by 650% - ILG Season 2 announces Rs. 1 crore (USD $153,322) prize
pool
● ILG Season 2 is free to register event, registrations for multiple games allowed
(Registrations can be directly made via the ILG Website - (www.ilg.lxgindia.com/register)
● Season 2 features a new set of 170+ offline LAN tournaments over 8 different games ultimately
leading up to a Grand Finale consisting of the 3 main games
● Tournaments will be organized across 16 different cities in India over a period of 7 months
(list of cities on ILG website)
● Tournaments start in April 2018 and end in October 2018
● Three main games to be played - DOTA 2, CS:GO, Fifa 18 with three competitive showcase
games introduced this year - Overwatch, Rocket League & Call of Duty
● ILG Season 2 will also feature two community games in the series of tournaments - PUBG
(PlayerUnknown's Battlegrounds) and Rainbow Six : Siege
● Matches & tournament updates will be streamed online across multiple platforms - Facebook,
YouTube & Twitch and also at select offline venues
● 90 mini tournaments introduced such as 1v1s with branded goodies to be won across 27
different esports gaming cafes (ILG Partnered cafe list on ILG website)
● Logitech G peripheral experience zones at 10 gaming cafes
● Tournaments will be held at 27 power packed gaming cafes & 3 universities
● ILG Season 2 partners with leading brands such as Logitech G, Nvidia, LG India &
Sportskeeda.
● Indian LAN Gaming Cup (ILG) was started in 2017 by LXG
Cities :
Ahmedabad  Bangalore  Chennai  Coimbatore  Cuttack  Delhi Guwahati Hyderabad  Jaipur  Kochi  Kolkata Lucknow Manipal Mumbai  Pune  Vellore
Tournaments Schedule :
Qualifiers Start in 7th  April 2018
Registrations are now open, Choose your city, information about date and time are available in the below link.
To Register: Indian Lan Gaming
Check Out their Website for more info: http://ilg.lxgindia.com/
Check Out other tournaments: Indian Esports Tournaments