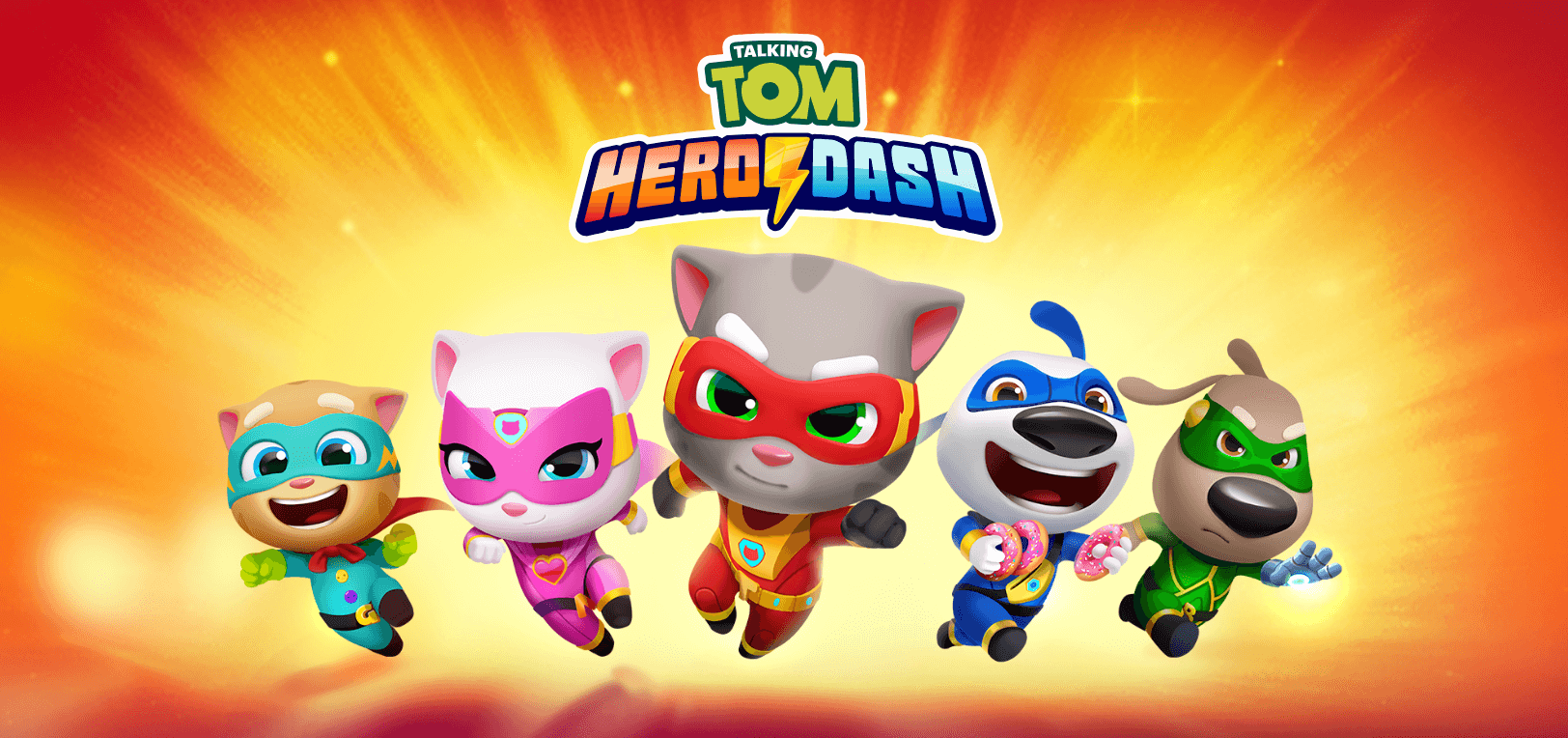 Talking Tom Hero Dash - Official Press Release:
Press Release
 Outfit7 Opens Pre-Registration for its New Game globally and in India:
Talking Tom Hero Dash
 Upon reaching 3 million pre-registrations globally, Outfit7 will gift all players a premium, limited edition Talking Tom Hero Dash virtual outfit
 Mumbai: 22ndMay 2019 - Outfit7, the multinational entertainment company behind the globally popular Talking Tom and Friends franchise, has just opened pre-registration on its "super" new mobile game, Talking Tom Hero Dash. Delivering a superhero twist on the endless runner mechanic, Talking Tom Hero Dash calls on players to save the world from a pack of villainous raccoons who have captured Talking Tom's friends and are leaving a trail of destruction in their wake.
For the first time ever, Tom and his friends are getting a superhero upgrade (capes and superpowers included). Collect loot, battle bad guys, dodge disasters, rebuild the city, and rescue Tom's friends. Players can then race their way through the game's five exciting worlds and unlock the ability to play as all five super friends.
"We are one of the industry leaders for endless runners. With Talking Tom Hero Dash, we wanted to give the mechanic a super boost by adding an action-packed superhero narrative," said Boris Dolenc, Chief Product Officer at Outfit7. "We've also created a brand new animated series called Talking Tom Heroes (link) to complement the game's launch. It will give fans the chance to experience even more of these characters' thrilling adventures and discover that friendship is a superpower!"
Want to help save the world and snag a special edition Talking Tom Hero Dash outfit in the process? Be one of the 3 million to pre-register for Talking Tom Hero Dash now at
Link: http://ow.ly/fiR950u3HDO
About Outfit7
Outfit7 Limited game developing company is one of the world's fastest-growing multinational family entertainment companies. It is a global company with offices and subsidiaries in London, England; Ljubljana, Slovenia; Pissouri, Cyprus; Hong Kong and Beijing, China. The company is best known for its flagship franchise Talking Tom and Friends, which became an overnight global sensation when it launched in 2010. In the years since, Outfit7 has expanded its portfolio to include a suite of award-winning games, a 3D CGI animated series, digital video content, chart-topping music videos, and a licensing program in order to meet the amazing demand of its fans. In fact, Outfit7's games have now been downloaded over 9 billion times in total and up to 350 million fans play with them every month. It's game on, world. For more information, please visit www.outfit7.com.