Lords Mobile Gamers Event v2.0 Hyderabad: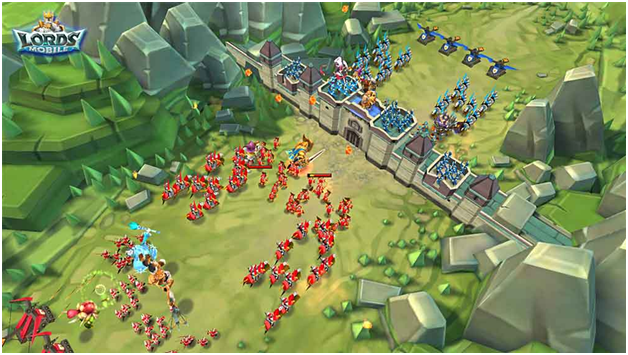 Lords Mobile Gamers Event v2.0 successfully conducted: 
 The second ever Lords Mobile community meet-up took off from the first one as more players participated for bigger prizes. The event was organized by Lords Mobile India and was conducted with much zeal and enthusiasm at B-Dubs, Hyderabad.
The event saw over 100 players from a number of local guilds show up to showcase their skills and get their share of the huge number of prizes and goodies that were given out during the event. Over ₹1 lacs in prizes were given to different players for their performance in different competitions held during the meet-up.
The event also had a dedicated cosplay guild attend to flaunt their cosplay skills. The cosplay artists imitated many in-game characters and made the event even more glamorous.
In addition, the event also saw some first time Lords Mobile players attend. For them, an emcee was present who guided them on how to play the game. Hence, no one felt left out during the event.
The community meet-ups are the first step to the plan to make Lords Mobile a major esports title in India. The game already enjoys thousands of daily players in India. Lords Mobile India (a community run organization) is working to make this happen.
The community meet-ups will follow with many online and offline tournaments for different people to play Lords Mobile in a more competitive setting. Given the success of the present event, Lords Mobile India is all set to make this happen.
For those of you who don't know what Lords Mobile is, it is a strategy based MMORPG (massively multiplayer online role-playing game) developed by IGG.
One of the most loved game modes is the 'Darknest Rally'. This involves players to form an army based on the opponent's defences, decide a formation and then attack their castle.
The mid-core game can thus be highly competitive as well. The feature to form guilds (similar to clans) adds to the delight of playing the game as you can play with your friends. Guild wars require you to discuss strategies with your guild-mates before attacking. The game thus not only requires individual skill but good guild communication and strategy to win guild wars. All this adds thrills to the experience of the player.
The mid-core strategy genre holds immense potential in India. Games like Clash of Clans are very popular in the region. The community that Lords Mobile boasts of in India is something that none other mobile game has.  They are planning bigger events with esports competitions soon as well.
Article By: Wasif Ahmed
"Wasif Ahmed is an avid gamer from India who closely follows Esports. He mainly games on mobile and loves Vainglory, Critical Ops and PUBG Mobile. Apart from gaming, he loves writing and has written many gaming related articles. He loves competitive gaming and watching esports competitions in games across all platforms such as DotA 2, LOL, CS: GO and Fortnite"