Sky Esports Tournament 2019 :
Esports is rapidly growing in India. When it comes to South India the gamers have been hesitant about esports. Previous Attempts to change this view has been to No or Little Success in south India. Pubg nowadays has been the talk of the town and there are so many dedicated players for the game in South India. 2018 has been considered a start-up year for South Indian Esports. 2019 is looking more promising with various events to be held.
Sky Esports has started this year with Sky Esports Tournament which will be held in Phoenix Market City, Chennai. The tournament is all set to be conducted on  23rd and 24th March 2019. The tournament will feature four games Pubg Mobile, Cs-go, Overwatch and Clash Royale. Already Existing Game Development studio Skylou Studios is the organization behind this event.
The tournament's Prize Pool currently stands in Rs 10 Lakhs as many Organisations and Sponsors are approaching the event. The Prize pool may increase in the Future as other sponsors get onboard. Nippon Paints and Monster are the Partners right now and Phoenix Market City as the Venue Partners.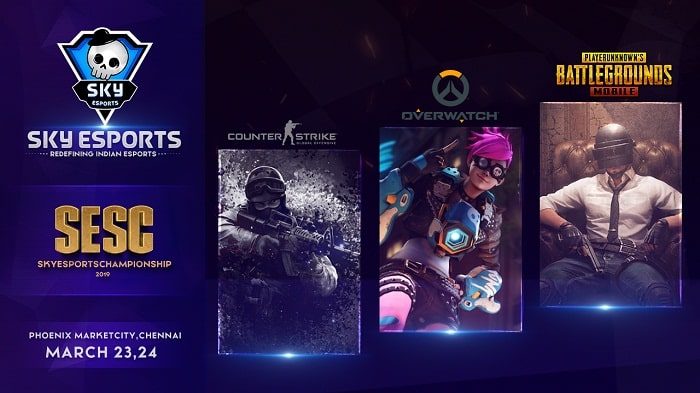 Pubg Mobile has a Registered Squad Count of an Impressive 650 Squads right now. The qualifier rounds and already in progress now. The qualifiers for other titles will start soon.
Nandy from Sky Esports says, "There have been a lot of things happening with the Indian esports scene. Good and bad. Chennai has been in a hiatus, for a while. You can say a little dormant when it comes to bigger tournaments.
We're trying to reactivate the esports culture here. We cannot ignore the mobile platform anymore after what we're witnessing with respect to PUBGm or Clash Royale and many other immensely popular titles.
We would like to make this event a grand success to pave a new path in the near future for us and everyone involved and hopefully travel further.
End of the day, everyone should enjoy the tournament and we'll do our best to keep it that way. A lot of effort is involved to make the event as pro as possible. It's still a very big work in progress. This is our first tournament and we would like the esports community to remember us for good things."
To Register Click Here