Danylo Ishutin who's Called Dendi - The Face Of Dota2. 
Danil ' Dendi' Ishutin is one of the most decorated and efficient midlaners in dota2. Please dont forget that many fans  started watching Ti because of Dendi from Ti 1. After 8 yrs in the dota2 scene also Dendi still has his skills as a mid player he can take on anyone. Recently there are have been many rumours that Dendi is going to retire from Dota2. To clear all the rumours Dendi has Announced he is just looking for a new team. To dota2 fans that is a big relief to hear. For a Player who has played nearly 8500 Hrs in Dota2 , I started playing because of Dendi. To tell the truth he's a inspiration to us all. TO fans all around the world he's a God of Dota2. I accept that he is down on his luck, but I am sure he will rise up to the top once again, and this transformation may lead to that.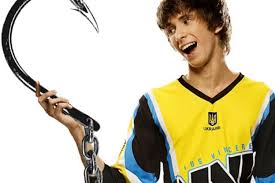 Why Fans Stay Loyal to Dendi:
Dendi is a guy who is the most active and energetic person in dota2. The guy just laughs a lot, go and see other players. If they Win a Ti also they will stand there and look like they have done nothing Big. They will not even smile a bit for the camera or for their fans. Its fun watching Dendi play and his attempts to make the crowd laugh and Enjoy Dota2 on the whole. His fans were loyal to him, because he was loyal to his team Navi for nearly 8 yrs now. He has stayed with his team when his teammates went out and created new teams around themselves. But recently many fans have been complaning about Dendi leaving Navi, so he made a decision to leave his team and seek new oppurtunities. I don't know how fans will react to Navi as a team from now on, but I am pretty sure that Fans will cheer the team in which Dendi is going to join.
Dendi's Major Achievements:
2011 WInner : The International
2012 2nd Place : The Ineternational
2013 2nd Place : The International
2014 Winner : Starladder Series Season 8
2014 Winner : Dota2 Champions League Season 2
2016 2nd Place : Esl One Frankfurt
2016 1 st Starladder I - League Star Series Season 2
2017 Winner Adrenaline Cyber League
Dendi played matches for the Vega Team as a Standing team player. He is still looking for a new Team. So lets hope he ends up in a team which is capable of taking him to newer heights.
Message To dendi : Please dont quit Dota2 as there are so many haters who want you to leave , but the real fan base of yours is strong and we still want you to prove to them that you will regain your glory as a God of Dota2. As a matter of fact you already are God of Dota2, but just do it once again.Good Luck Dendi.
Dendi Latest Matches with Vega Video