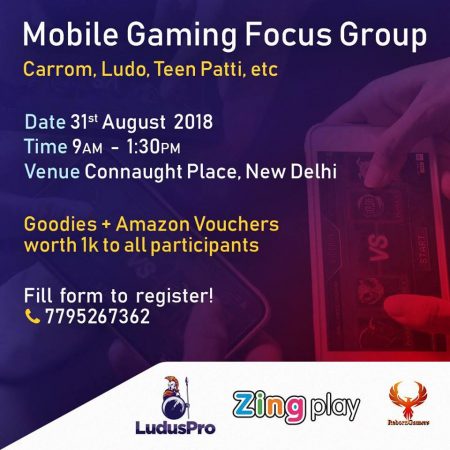 Event Has Been Completed.
Zingplay an Online game portal is a part of VNG Corporation a Leading Vietnam IT based Company will be hosting its first mobile gaming focus group in India. Reborngamers in association with Ludus pro is proud to help in organizing the event. Kim Chi from Senior Business Development of VNG told Reborngamers that they are so excited about hosting the event. They were excited about going to launch their games into the Huge Indian market.
This focus group's primary objective is to make sure that their games app are working in India and to understand how gamers react to VNG online games and collect opinions about the game's concept. A team of 11 Product managers from VNG will attend the testing session. The gamers will be directly interacting with Product managers and developers from ZIngplay.
Event Day:
The Product managers and Developers interacted with the gamers regarding their games. The gamers were excited to share their opinions and also gave suggestions to the Developers.
The Requirements of gamers as follows
Number of gamers:: 20 gamers* (including professional gamers, gamers
hardcore) and amateurs (who rarely play games), male and female, English
speaker and also 1-2 Hindi speakers.
4 gamers who play Teen Patti and Rummy online.
*Number of games:* 6 games (including Carrom, Billiards, Poker, Monopoly,
strategic games)
Players are asked to carry Android Mobiles to the event.
Location: Connaught Palace, New Delhi
Date: 31 st August 2018
Time for the Testing Sessions: 9.00am to 1.30 pm.
The gamers have received Goodies and Amazon Vouchers worth 1k.