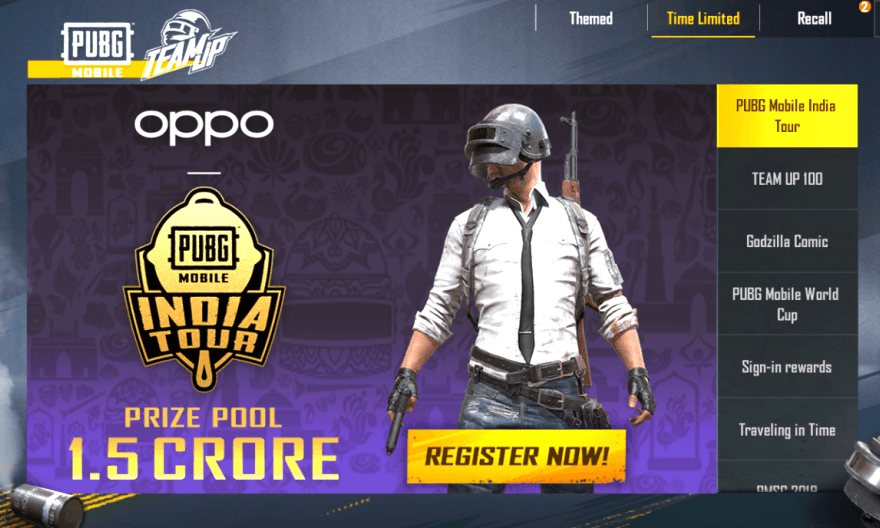 Oppo Pubg Mobile India Tour - 1.5 Crores Prize Pool:
Registrations are Completed Finals on 20th October 2019
Oppo and Pubg Mobile partner to present you a pubg Mobile esports Tournament called Oppo Pubg Mobile India tour. This tournament will span the entire country and it offers a prize pool of Rs.1.5 Crores. All you have to do is participate and get a chance to win the grand prize. The event will start in July 1st 2019 and it will end in October. The grand Finale will take place in Kolkata.
The event has been divided into 4 groups. Registrations are Free. There is no limit to the registrations everyone can join. But they do have some Requirements.
Participant has to be a Resident of India.
A Pubg Mobile account with a Level 20 or Tier 5 Platinum.
Group A: Jaipur- 1st July-14th July - Registrations Closed
Group B: Guwahati- 1st July-28th July - Registrations Closed
Group C: Pune- 1st July- 11th August - Registrations Open
Group D: Vizag- 1st July- 25th August - Registrations Open
Click Here to Register : Oppo Pubg Mobile India Tour 
Aneesh Aravind, General Manager, Tencent Games India said in a statement "We are focusing on developing esports to be accessible to millions of PUBG MOBILE players in India, to participate and watch, no matter where they are in India. The open-for-all large-scale tournament format of PMIT enables any player to participate and experience the thrill of the competition. We are collaborating with popular content creators to cast and live stream the matches on YouTube & Facebook in multiple languages to improve the viewing experience. By bringing the finals to 5 cities we are hoping to engage and excite our player base across India and make PMIT, uniquely Indian.".