PUBG Mobile Club Open Indian Finals: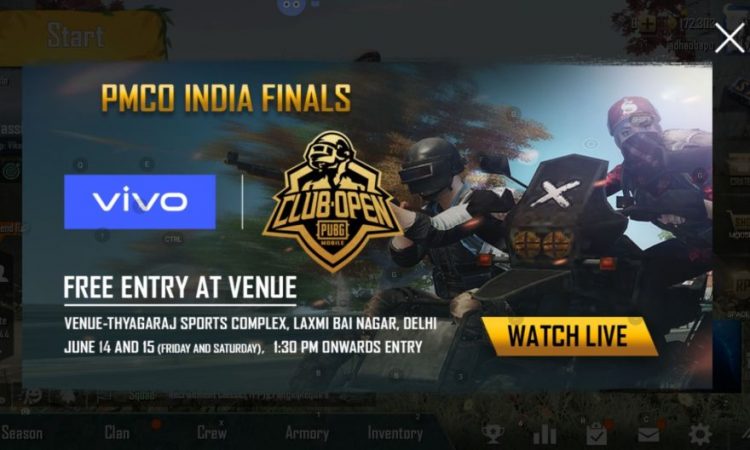 A Chance to showcase Indian Pubg Mobile Players in a world stage. Eleven thousand teams registered to the PUBG Mobile Club Open from all over India. Only 16 Teams qualified to the Indian Finals. These 16 Teams will compete for a prize pool of USD1,75,000 and a receive a slot in the Global Finals and the Spring Championship -Prelims.
The first Position of this event will qualify for the Global  Finals in Berlin. Number 2 and 3 teams will qualify for the Prelims where the rest of the world teams will be fighting along and it will be tough for them to compete and win.
Event Dates: 14- 15 June Venue: Thyagraj Sports Complex, Delhi Time: 1 PM IST onwards Entry: FREE ENTRY
Match Schedule : Game 1 (Erangel) - 2:30 PM Game 2 (Vikendi) - 3:15 PM Game 3 (Erangel) - 4:15 PM Game 4 (Miramar) - 5:05 PM Game 5 (Sanhok) - 6:05 PM Game (Erangel) - 6:50 PM
TEAM SOUL GO TO THE GLOBAL FINALS
TEAMIND AND INDIAN TIGERS WILL BE GOING TO THE PRELIMS
The event was amazing. We were Surprised to see all the talents from all the teams who came to compete. Our Best Player For the event was Daljit from TeamInd. This guy Daljit is Pure Talent at its best. The Most expected Team - Team Soul did perform and stand up to their expectations and they did stand true to their fans. Another Team to watch is Entity Gaming who were very Consistent to get points. Many Underdogs Teams also did their best and gave us a unique Experience. The Most Disappointing team must be Hydra as they had a huge fan base and didn't put up a good show for their fans.
Day2 Highlights:
Game: 7
The starting game of Day2 was really amazing. Team soul did put up a strong fight in the first game of the second day. But the final Fight came to ORB VS Daku Official. Orb player Neyooo killed you, players of Daku single handily. The first Win for Orb in this finals. The last fight had some crawling and blind fire. But Orb's Neyoo was the star player in the end.
Game: 8
The Second game of the day was Vikendi.  TeamInd have looked amazing from Day 1 by being consistent and also getting a win before this game. The only team really challenging Team soul and putting up a fight. The final fight was Easy for Team Ind as they were 4 vs 1. Team Ind won this game pretty comfortably. Megastars who got most kills and were superb in this game finished 2nd in this game and getting some valuable points on the scoreboard. Team Ind with this win Overtake Team Soul in the Leader Board.
MVP: Megastars Final Boss
Game 9:
It's a race for 1st Position Between Team Soul and TeamInd. Game 9 was dominated by Team soul as they had the Positioning advantage. They positioned themselves perfectly and even Threw a grenade to knock out Rip's 2 players in the end game.  Indian Tigers had two players against the whole team of Team soul. Easy execution for Team soul as they won the game 9 and went once more to the top of the table as the crowd cheering after their win.
MVP: Entity Gaming White
Game 10:
Miramir is always a tricky map. The top teams suffered and were eliminated in the middle game. The final clash was between Pain Retribution and RIP. Pain had 4 players against 2 players from RIP. This game shows that the last position team in the points table can win a game and rush the points. Pain did it and won game 10. The leader board teams Team Soul and Team Ind were tied in the points table. Entity gaming with their consistent points moved to place them in position three.
MVP: Pain ANB
Game 11: 
Sanhok as usual when to the final fight with the crouch setup. We expected Team soul to win this one but they failed in achieving it. The final fight was amazing where Entity gaming had 2 players and Learn from Past had 1 player. But Learn from Past player killed the 2 players from Entity gaming and won this game. Entity gaming with 2nd placement in this game has moved up to 3rd position in the points table.
MVP: Hydra Joker
Final Game :
The final game is the best game of the whole series of games. The drive-by fights and the bridge crossing were so Intense. TeamInd went out early in the game as Team Soul did survive in the last game. But Indian Tigers did roar loud in the last game as they win the last the game of the series. The last fight was so intense you have to watch it.
PUBG Mobile Club Open Indian Finals Team Standings After Day1:
TeamInd - 150
 Team Soul - 148
 Indian Tigers - 124
Entity Gaming - 109
Godlike - 93
DAY 1 Highlights:
Game 1 :
Team Brawler Soul survivor went on to place his team in 3rd position. A nail-biting last fight between Team Soul and Indian tigers with 2 player each and 1 from brawl team. Indian tigers won the fight and won match 1.
MVP: Team Soul Ronak
Game 2:
The second game map was Vikendi. The first match finalists Team Soul and Indian Tigers where the final 2 teams and the count were Team Soul 3 Vs Indian tigers 4. After a quick skirmish Indian tigers managed to eliminate Team Soul and win back to back wins. So after the second match, the Leader table had 2 points difference between Indian Tigers and Team Soul.
MVP:  Team Soul Owais (Most kills)
Game 3 :
The King of the Hill Indian Tigers winners of the first two games has been dethroned. Team Soul was magnificent as the crowd got behind Team Soul as they earn their first win. Team Soul's Ronak with an AWM is a dangerous situation for the enemy teams.
The final fight was Soul Vs Entity gaming with three members of Team Soul and two players from Entity gaming. Soul dominated this game by a large margin.
With total kills of 16  Team Soul made their statement.
MVP: Soul Ronak
Game 4:
Miramar is Well known for its complexity and no team didn't dominate in this game. The other teams were able to show their efficiency. Team Soul or Indian Tigers which lead the points table didn't dominate this game. Brawlers came into this event as one of the teams to watch out for and they showed it why they are a force to fear. They Solidified their positions and they won the game comfortably. The Most Kill for this game was Team Learn from Past with 9 Kills.
MVP: Dalijit TeamInd
Game 5:
This is a game of the Underdogs as the leading teams in the Points table went out in the middle game. The other teams were able to portray their talents in this game. Evil big fellas had two players and Entity Gaming with 0 Kills and a single player, there was one player from GodL. Evil Big fellas won this game and Entity Gaming got second place with 0 Kills. Major Improvement was The much Expected Hydra had Disastrous Four previous games and in this game, they were placed Position6 and some points.
MVP: GoDL Avvi
Game 6:
Erangel Map with Bridge camping is what chaos means. Amazing last game to close the Day. A lot of fun and crazy moments as most players survival mattered the most. Many Players have to swim near their enemies to stay alive as the map shrink towards the middle of the bridge. Team Ind had the perfect position on the top of the bridge and Entity gaming Ruled the bottom of the bridge. As a final showdown Team Ind was amazing as they won game6. Team Ind With consistent performances were placed 1 st at the end of the day.
Team Soul
Team Ind
Indian Tigers
Entity Gaming
ORB
The Brawlers
Godlike
Evil Big fellas
Mega stars
HYDRA
Team Insidious
Learn from Past
8Bit
Rip Official
Daku Official
Pain Retribution